EZ Recipe - Pheasant Fajitas, Salsa & Margaritas
Pheasant Fajitas Recipe

Ingredients

Fajita soft shells, either white or whole wheat
green peppers
Onions
1 Can refried beans
Tomatoes
Lettuce
Cheese, marble, or your favorite
Sour cream
Any other fresh veggie garnish
Optional

Directions:
Cut the pheasant into slices (against the grain), and cook in a pan, on the grill without any direct heat. Optionally, you can cook the pheasant in a crock pot or oven, then cut it up after it is done. Cutting against the grain means you should not have any long strands of meat.
When the pheasant is done, the meat should be tender, but not raw. If cooking in an oven or crock pot, meat should be falling off the bone, you should cut the meat against the grain, there should not be any long strands of meat. You can cube it if you want, but just cutting against the grain will make it easier to eat the fajitas.

Cook some onions on the stove, in a frying pan, with olive oil. Once the onions are soft, put in some green peppers, and about 2 minutes later, take the frying pan off the stove, and put the pheasant meat on top of the onions and peppers. You can put the pheasant in with the peppers, and cook them for a couple minutes together. But, the pheasant should be done cooking before you mix it in with the onions and peppers.

The fajitas are served buffet style; persons can get their fajita shell, put refried beans in the bottom, then add meat, green peppers, sour cream, cheese, and whatever else you like. You can add salsa on top.


---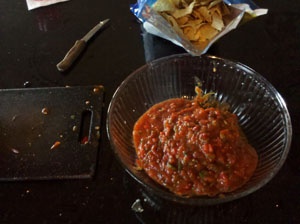 Here is a good salsa recipe to compliment the Pheasant Fajitas.

This is a sweet spicy salsa, which tastes great with Pheasant Fajitas and Margaritas. It uses jalapeno peppers and another pepper that you can buy online in dried form. The second pepper is called a pequin, which is 7-10 (or more) times hotter than a jalapeno pepper. Different pequins can be hotter than others, here is a method of using it in a salsa. One pequin is a little smaller than a peanut (without the peanut shell).
This salsa will have a lingering heat, and as mentioned above, is excellent with a Fajitas and Margaritas. It will taste best with a hand crank salsa maker. If using a food processor, be sure not to over process. Also, with a food processor, you can cut up a green pepper with a knife, which will give the salsa some more chunks.
Some things you will want for best results: (habanero peppers optional)

Pheasant Fajita Salsa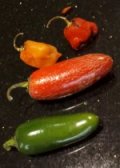 Put ingredients in salsa maker or food processor:
Add 8 oz can of tomato sauce
1/2 Bell Pepper (Green)
1/4 onion
1 clove garlic (use garlic press)
2 jalapeños (one might be enough depending on heat, I usually take the seeds out)
2 Roma tomatoes
This recipe makes a small amount of salsa, if having guests, you will want to make five (5) batches of the above recipe. The above picture is two batches of salsa. You will be surprised at how much people will eat, as this salsa is great.
Note the pepper picture to the right, there are two jalepeno peppers, two habanero peppers, and at the top you can see one pequin pepper (the size of a peanut). I always remove all seeds from Jalepeno peppers, although you can use fewer peppers if you leave them in. I always remove all seeds from a Habanero pepper. See the video on the optional peppers page, for more details on how uncomfortable you can be (after eating one). Always cut Habanero peppers into small pieces, do not rely on your salsa maker or food processor to cut them up, especially if the peppers are dried.

Continuing on with the recipe above, take one pequin (again, smaller than a peanut), put 2-3 oz of lemon juice in a blender, enough to cover the top of the blades. Put the pequin in the blender, and blend well. If serving to customers, I recommend straining. Persons that enjoy hot salsa will not have a problem, but the small parts of the pequin may bother customers that think it is a mild salsa.
For home use, I always just pour in all the lemon juice and pequin parts (right into the salsa). If you are serving to customers, always strain, and put a warning on the salsa. I have never had a problem, but mild salsa customers will not enjoy it.
Mix pequin juices into the salsa, let sit in the refrigerator overnight for best distribution of heat. Keep leftovers refrigerated. You can change the amount of hot peppers, or change to
different peppers such as habanero
.
---
Here is a good margarita recipe to compliment the Pheasant Fajitas.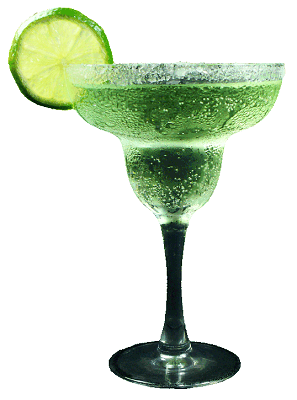 For the best Margaritas, use a higher grade triple sec, such as Gran Marnier, or Cointreau.
Many people say they do not like margaritas, until they try this one.
Margarita Recipe
Salt rim of glass
Add ice
Add 1 oz of your favorite tequila
Add 1/2 oz of either Gran Marnier or Contreau (this is the most important ingredient for a good margarita)
Fill (normally 2 oz) with Sweet and sour
Pour a splash of Rose's lime juice on top
Garnish with a lime
Enjoy!